How to manage mental health in times of Covid 19: Event
Emotional wellbeing
November 2020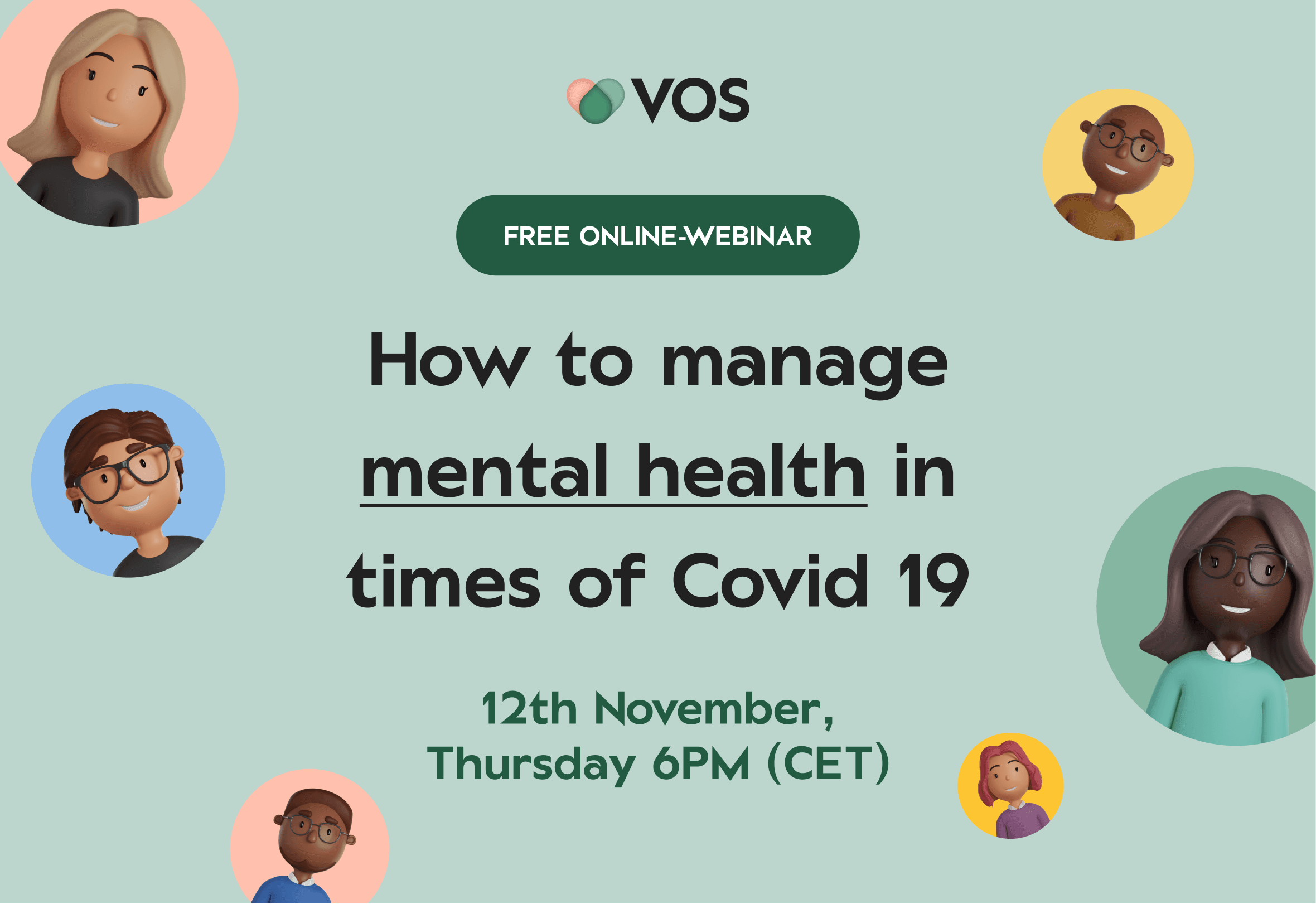 We are excited to announce our first online self-reflection event, where we will discuss the importance of mental health and provide some practical tips on how to maintain it during the times of Covid-19.
Our goal is to start a conversation and bring like-minded people together to share experiences, stories, and tips. Let's have a great time!
When? November 12 | 18:00 – 19:30pm CET
Where? The online event, in Zoom
The agenda includes four speakers, who are experienced professionals in psychology, sociology and therapy with academic and counselling backgrounds. Each presentation will be concluded with a Q&A session, where you will get to ask more specific questions about the topic.
The event is free of charge for everybody, there is no age restriction.
Agenda:
18:00-18:05 Introduction
18:05- 18:20 "Behavioural activation - Simple & effective way to overcome depression" Tereza Ruzickova, PhD student at the University of Oxford, where she researches depression and its treatment in the context of Covid-19.
Tereza will give a talk about behavioural activation, a therapeutic method that is the topic of her PhD. Behavioural activation is a simple, evidence-based programme that can help you overcome depression and anxiety by helping you identify and increase daily activities that are most beneficial to your mental health.
18:25- 18:40 "What VOS can bring to your life" by Jiri Diblik, CEO & Co-founder at VOS.
The world is busy and hectic, we are always in a hurry. We care about our social status, family, friends, significant others, but we don't find enough time for ourselves. It's common to take care of the physical appearance and physical health. People often forget that it's just one part of who we really are. That's why we created VOS - a technological mirror to your mind, a tool to discover anything and everything about your inner self.
18:45- 19:00 "How to date in times of Covid-19. Practical tips and more" by Marketa Setinova, sociologist and psychotherapist
Dating is never easy. And it gets even harder with social distancing, quarantine and Covid. We will talk about how the pandemic changed dating, share tips on what you can do to stay safe whilst looking for love and discuss whether there is any silver-lining to Covid dating.
19:05- 19:20 "Lockdown - setback or opportunity for growth" by Vojtech Kukla, psychologist.
We all are going through difficult times right now. The virus is spreading, the economy is slowing, we have lockdown and I'm not far from saying the truth - we live in chaos. How will all of this change the society? How will it change you?
Get your free ticket already today here.
About VOS.health
VOS.health is a self-reflection company. Our mission is to help people become a better version of themselves, encourage them to self-reflect and provide them with tools.
Let us know if you have any questions or suggestions at natalia@vos.health