Welcome back, VOS community! Building on our exploration of Transactional Analysis (TA) and its foundational ego states, we're diving deeper into the realm of TA. Today, we'll unpack the three primary types of communication transactions: complementary, crossed, and ulterior. Grasping these can significantly enrich our interactions and relationships. So, let's get started!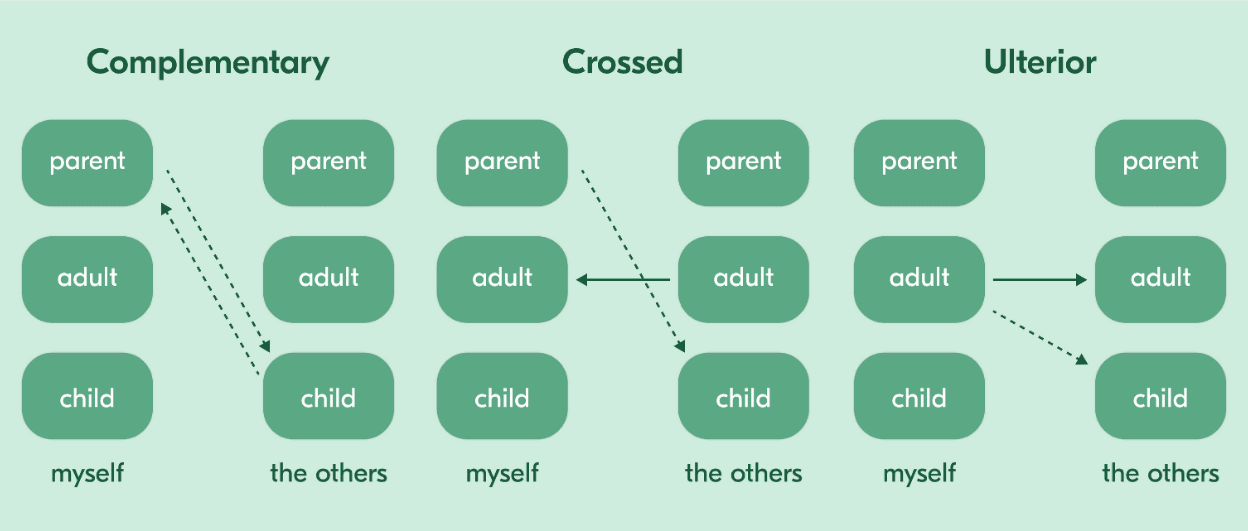 Complementary Transactions
When communication flows smoothly and predictably between two people, it's often because they're engaging in complementary transactions. In these interactions, the sender's message is appropriately received and responded to by the receiver.
Example:
Person A (from their Parent ego state): "You should wear a coat. It's cold outside."
Person B (from their Child ego state): "Okay, I will. Thanks for the reminder."
Here, Person A acts in a caregiving role, while Person B responds in an accepting, childlike manner. The conversation flows smoothly, mirroring the expected roles.
Crossed Transactions
Crossed transactions occur when an unexpected ego state responds, leading to potential miscommunication or conflict. The response doesn't follow the expected line of communication.
Example:
Person A (from their Parent ego state): "You should wear a coat. It's cold outside."
Person B (from their Adult ego state): "I've checked the weather. It'll warm up later."
In this scenario, Person A speaks from a caring, Parent state, expecting a Child state response. However, Person B counters with an Adult state. This difference can cause a potential mismatch and disruption in the flow of the conversation.
Ulterior Transactions
These are more complex and can be a bit tricky. They occur when there's a hidden, secondary message or intent behind the explicit communication. The overt message comes from one ego state, while the covert message stems from another.
Example:
Person A (overtly from Adult ego state, covertly from Child): "Do you think this dress makes me look young?"
Person B (overtly from Adult ego state): "It's a trendy style."
Here, on the surface, Person A is seeking an opinion about the dress (Adult to Adult). However, the underlying message seeks validation about appearing youthful (Child to Parent or Adult). Person B's response tactfully addresses the overt question without diving into the covert emotional query.
Navigating the World of TA in Everyday Life
Understanding these types of transactions can enhance our self-awareness and provide tools to navigate complex conversations. When a discussion seems to be derailing, considering the transaction type at play can offer a perspective shift, allowing for more constructive interactions. But by deepening our understanding of Transactional Analysis, we're not only enhancing our communication but strengthening our bonds with those around us. Let's continue this enlightening journey together, enriching our relationships one conversation at a time.